For the next 3 months WIFoodhub.com will be posting and sharing ideas and recipe content for the 2016 Fall Season. Check back often and also follow us on Facebook!
Decor:

Indian Corn
Corn Shocks
Pumpkins
Small, Medium, Large (individual or bins) Specialty Pumpkins White, Cinderalla, Blue, Worty Thing, (individual or bins) Mini Pumpkins
Gourds
Pie Pumpkins

Produce |Squash:

Acorn
Buttercup/kabocha
Butternut
Carnival
Spaghetti
Turbans
Specialty (White Acorn, Delicata, Sweet Dumpling,)
Pumpkin Cinnamon Streusel Pancakes
Two Peas and Their Pod.com
Ingredients:
For the cinnamon streusel:
1/2 cup all-purpose flour
1/2 cup brown sugar, packed
1 teaspoon ground cinnamon
6 tablespoons cold unsalted butter, cut into chunks
To make the pancakes:
3/4 cup all-purpose flour
1/2 cup whole wheat flour
2 tablespoons light brown sugar
2 teaspoons baking powder
1/4 teaspoon salt
1 teaspoon ground cinnamon
1/4 teaspoon nutmeg
1/8 teaspoon ground ginger
1/8 teaspoon ground cloves
1 cup milk
1/2 cup canned pumpkin (not pumpkin pie filling)
1 large egg
2 tablespoons canola oil
1 teaspoon vanilla extract
Directions:
1. First, make the cinnamon streusel. In a medium bowl, combine flour, brown sugar, cinnamon, and butter. Mix together with your hands or a fork, until you have a crumbly mixture. Set aside.
2. In a large bowl, whisk together flours, brown sugar, baking powder, salt, cinnamon, nutmeg, ginger, and cloves. Set aside.
3. In a medium bowl, whisk together milk, egg, pumpkin, canola oil, and vanilla extract. Add wet ingredients to the flour mixture and whisk until combined.
4. Heat a griddle or pan to medium low. Coat with cooking spray. Drop 1/3 cup of batter onto heated skillet. Add 2 tablespoons of the cinnamon streusel. Cook on the first side until bubbles begin to form, about 2-3 minutes. Carefully flip pancake over and cover very generously with cinnamon streusel. Cook for another 2-3 minutes or until golden brown. Continue this process to make the rest of the pancakes.
5. Serve pancakes warm with maple syrup and butter.
---
CornHusk Garland
www.marthastewart.com
materials
Garden twine
32-gauge floral wire
Wire cutters
 Tape measure
Dried cornhusks (20 per each foot of garland)
steps
Using wire clippers, cut one 5-inch length of floral wire for every cornhusk. Fold cornhusk in half, and tie ends together using a piece of floral wire; leave wire ends loose. (To make brittle husks more pliable, boil water in a teakettle and hold them over the emerging steam for about two seconds before folding.) Repeat with remaining cornhusks.
Measure the space where your garland will hang; add 1 extra foot per every 8 feet of space to measurement. Add another 2 feet (this will serve as loose ends to hang the garland with), and cut a piece of twine to that length.
Starting 1 foot from the end of the twine, secure a husk to the twine with the attached wire. Continue wiring on husks, working your way around the twine and overlapping them for a full appearance, and stopping 1 foot from other end of twine.
---
Follow this link for a few Squash ideas and recipes. >>>
---
Under the Dome and in the Spotlight
www.midwestliving.com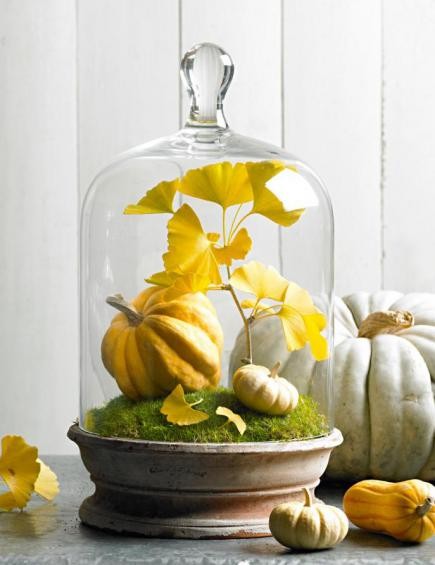 This is a great idea using Pumpkins and Gourds for a nice center piece for your table or living room decor for the fall.  Squash, pumpkins and a twig of your favorite branch or  leaves (inserted in a flower pick) on mounded moss command attention in this bell jar set atop a terra-cotta dish. Substitute a terrarium, large jar or even a glass cake cover, if desired. Arrange a few spillovers outside the glass for a touch of spontaneity.
---
MORE TO COME SOON!